APE Labs Lighting
All LSA Lighting products are supplied directly by Ape Labs GmbH of Germany.
Ape Labs are producers of professional wireless LED spotlights for commercial and event use; all of their products and systems are designed and made in Germany with technical support teams across Europe and America as well as LSA Projects Ltd in the UK.
The range includes the LightCan; small but powerful and the perfect portable and space saving solution for uplighting walls with sound-to-light as well as programmable functions.
The new LightCoin from APE Labs shares design features with the LightCan in a smaller package. Each Coin is powered by USB and only 2.6cm deep and can be fixed using supplied magnetic swivel brackets.
The LightStick 4 is a versitile strip lighting product from the range, using magnetic installation with independant mountable metal plates that make putting up and taking down easy, fast and safe.
For more powerful lighting the Maxi and Mini optical lights offer 1 to 3 RGBW LED bulbs with integrated mounting brackets for secure indoor and outdoor installation.
Each of the lighting products are available for sale as individual pieces for perfect for uplighting on bars and stages, as well as in tourcases of 6, 10 and 12 for larger scale events.
Ape Labs products are available in the UK through LSA Projects Ltd, please contact Sean Smyth by email or phone (01376 501199) for further information and ordering.
Available from LSA Lighting
LSA Lighting are able to supply the full range of APE Labs products within the UK and Ireland; however we specialise in their portable and event lighting range including the LightCan, Mini and Maxi lights.
The portable and event lighting ranges from APE Labs all come fitted with rechargable batteries and powerful RGBW LED bulbs. This meaning they are completely wireless and are able to light for up to 14 hours to cover most event types.
Each lighting product has been created with practical functionality in mind; lights are made of durable stainless steel and acrylic glass making them splash-proof and suitable for indoor and outdoor use.
Lights can be controlled independently using supplied remote control units for programming from a fixed range of lighting options including colour and dimming, speed control, and sound-to-light MusikMode.
For more complex functionality the W-APP Transmitters can be used for DMX control and range extension up to 1000ft.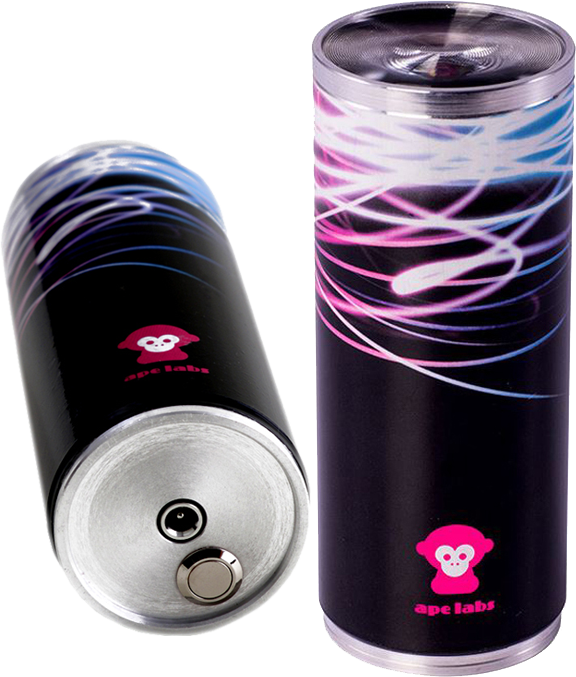 APE Labs LightCan
The LightCan from APE Labs is the ideal lightweight and portable event uplighting lighting solution. The LightCan has a single 15 Watt RGBW LED bulb and options for supply with either fixed or interchangable batteries for up to 12 hours single charge battery life.
Each lightweight on-the-go module is designed with a 65° effect lense and 170° frost filter for a greater uplighting impact from such a small unit.
APE Labs LightCans measure 13.6cm tall and 5.5cm in diameter and weigh 0.39kg.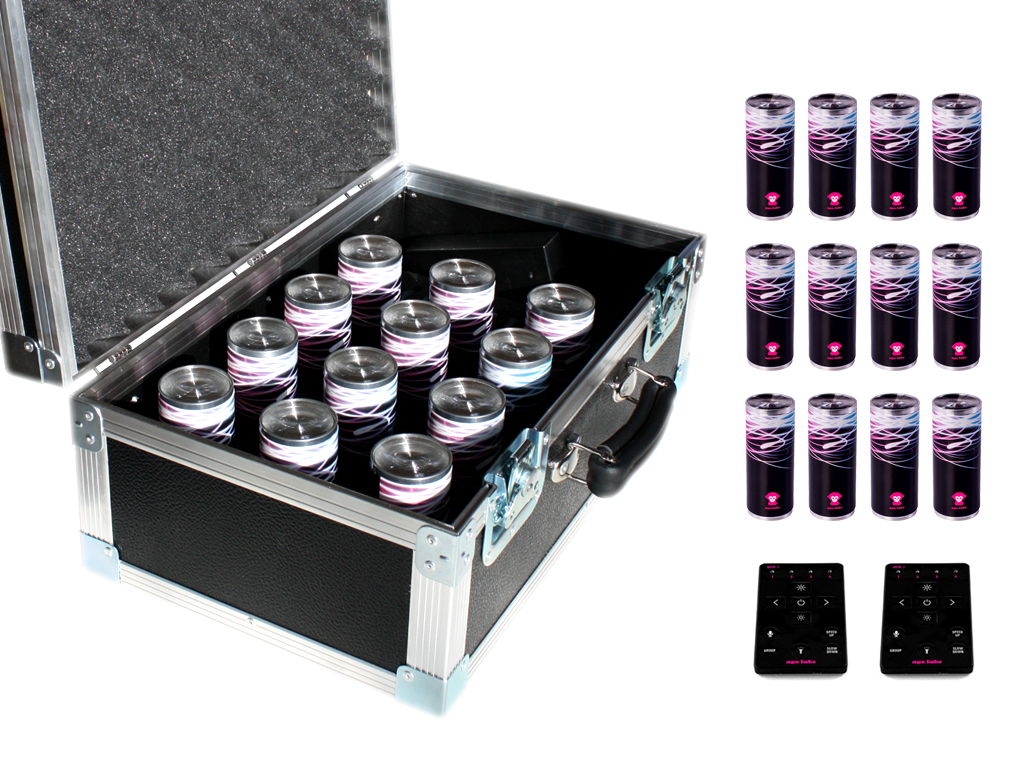 LightCan Tourpack
The APE Labs LightCan Tourpack includes 12 lights and 2 remote controls and can be used to transport and charge all units simultaneously.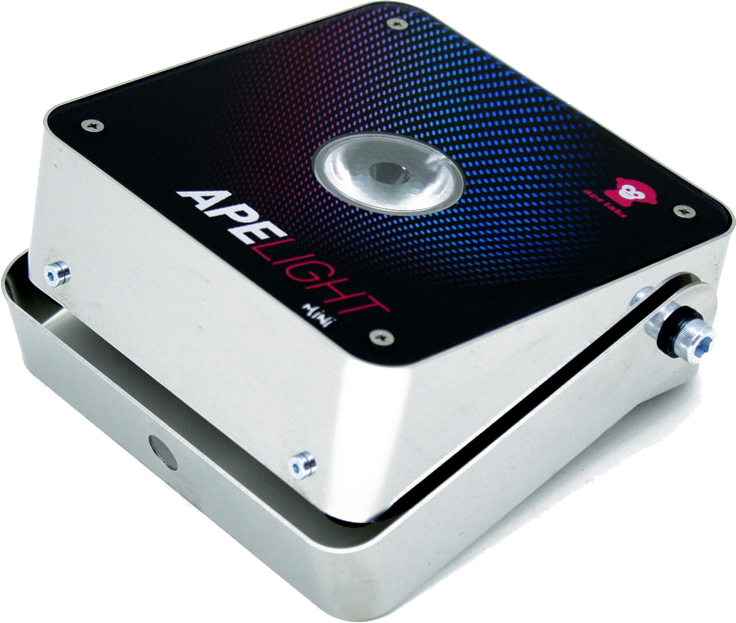 APE Labs Mini
The Mini light from APE Labs is the perfect compromise between the powerful Maxi unit and the compact LightCan; the APE Light Mini has one 15 Watt RGBW LED bulb perfect for smaller uplighting tasks such as bars, desks, and other furniture.
This unit benefits from a battery life of 8+ hours as well as up to 90° angle rotation using the integrated stand and mounting bracket. Additional polycarbonate tube extenders are also available to distribute light 360° over the length of each 1m tube.
APE Labs Minis measure 12.1cm x 12.1cm in width and 4.7cm in depth and weigh 0.67kg.
Mini Tourpack
The APE Labs Mini Tourpack includes 10 lights and 2 remote controls and can be used to transport and charge all units simultaneously.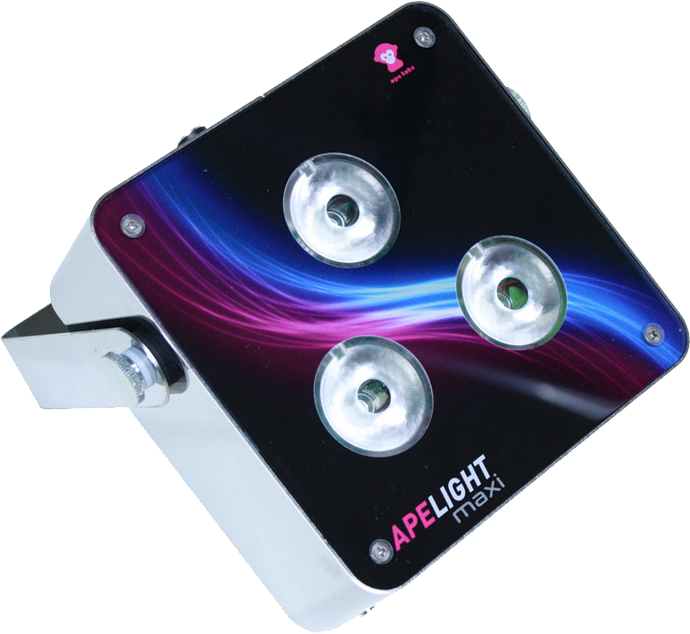 APE Labs Maxi
The Maxi light from APE Labs is the ideal event lighting solution for professional, commercial, and touring setups; lights can be used inside and outside for dramatic uplighting in any space.
The unit includes 3 x 14 Watt RGBW LED bulbs and has a use life of 14+ hours with full internal battery charge. Each module can be mounted within a 90° range using the integrated stand and when laying flat can support a load of up 70kg per light unit.
APE Labs Maxi lights measure 13.5cm x 13.5cm in width and 6.5cm deep and weigh 1.5kg.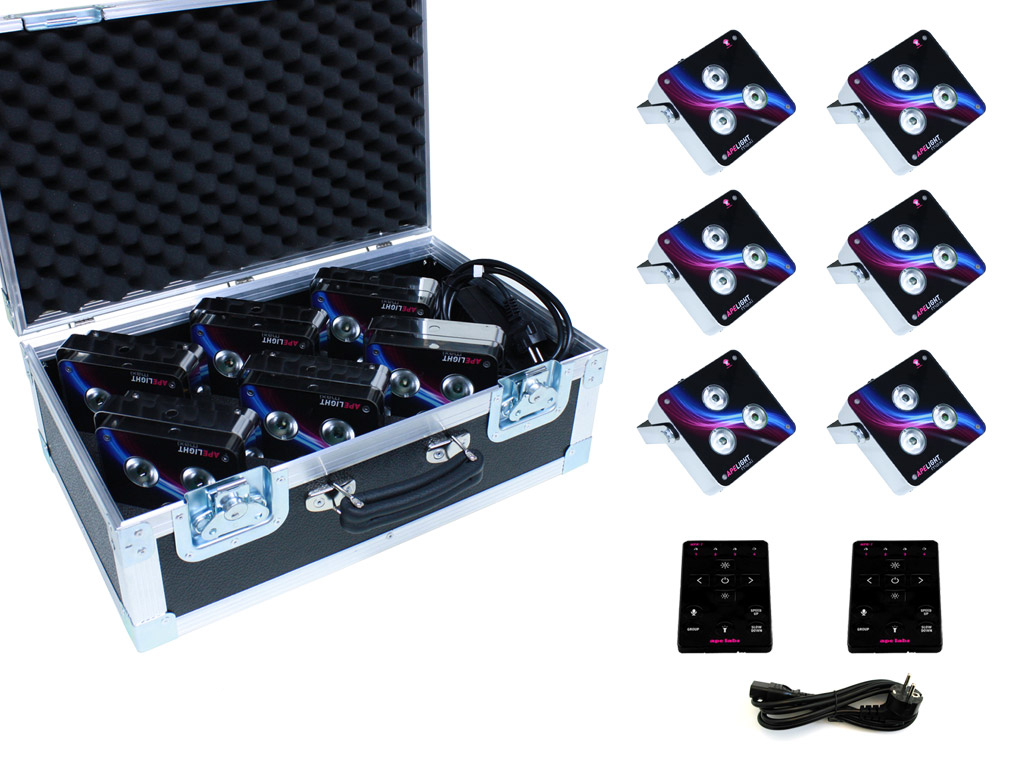 Maxi Tourpack
6he APE Labs Maxi Tourpack includes 10 lights and 2 remote controls and can be used to transport and charge all units simultaneously.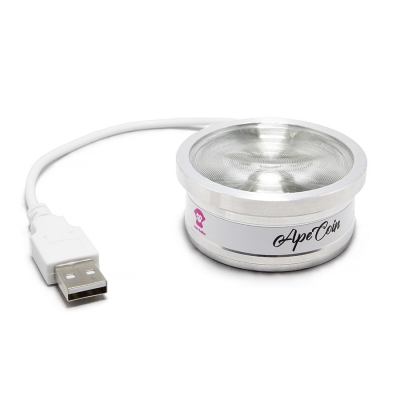 APE Labs ApeCoin
ApeCoin from APE Labs is a versatile LED uplighting solution for many different applications, each unit houses a single 15 Watt LED bulb and can be used with an additional extension tube for an alternative lighting style.
Each unit is powered by 5V USB making it universally compatible with all standard USB power supplies and battery packs to suit the needs of the installation. A portable battery pack of 16,000mAh will power 2 ApeCoins for 12 hours.
APE Labs LightCans measure 2.6cm tall and 5.5cm in diameter and weigh 0.3kg.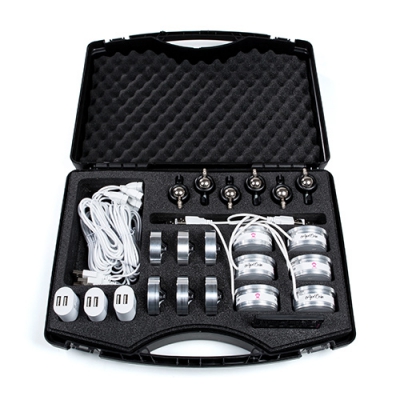 ApeCoin Tourpack
The APE Labs ApeCoin Tourpack includes 6 lights with accessory optics and swivel ball and magnetic mounting adapters as well as power supplies and remote controls.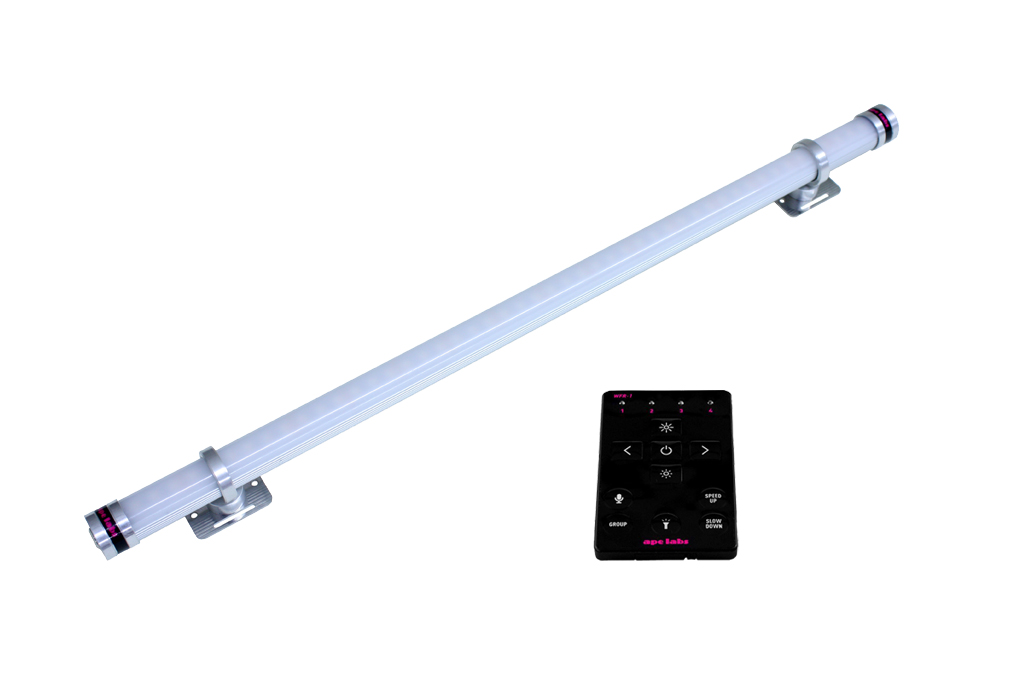 APE Labs LightStick
 LightStick from APE Labs is the perfect slimline LED event lighting solution. LightSticks can be fitted in any orientation and to almost any surface on walls, ceilings, and furniture.
Each unit has an internal battery suitable for up to 8 hours of use and modules can be fixed either perminently or temporarily using the adjustable magnetic feet or using the supplied stainless steel mounting plates for non-magnetic surfaces.
APE Labs LightStick measures 62cm long and 2.6cm in diameter and weighs 0.5kg.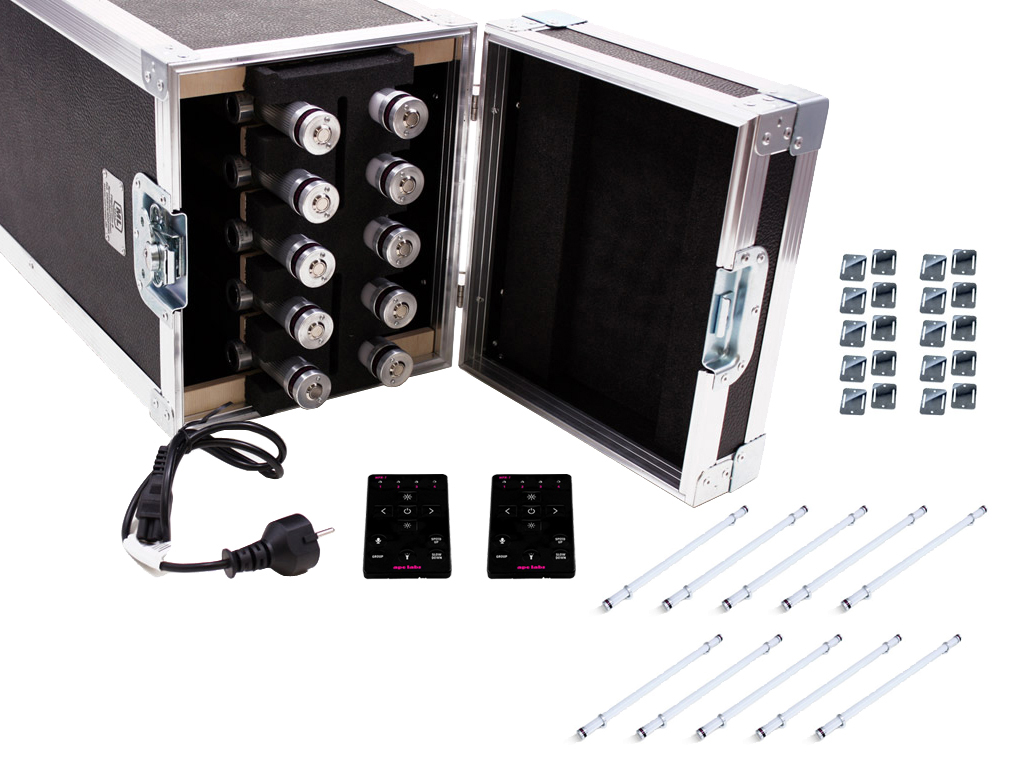 ApeStick Tourpack
The ApeStick Tourpack includes 10 lights including magnetic and stainless steel moutning plates and remote controls. The flightclase can also be used to charge all units simultaneously.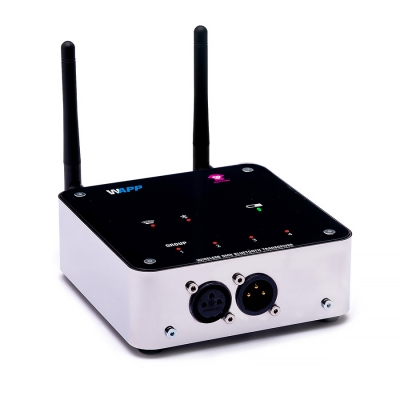 APE Labs W-APP Transmitter
The W-APP transciever from Ape Labs is a Bluetooth wireless transciever suitable for use with the APE Labs app via mobile or tablet as well as any wireless DMX controller.
The unit can control up to 4 separate DMX universes at the simultaneously and acts as a signal repeater to improve group management and extend active range up to 1000ft.
In addition to the functions of the W-APE transciever, W-APP benefits from an internal battery giving up to 50 hours of battery life for more flexibility in your set up.
The APE Labs Android and iOS App can be used alongside the W-APP unit to control all APE Labs lighting products in real-time. The app gives 2-way communication between each lighting element allowing the user to assign groups, colours, and programs to connected lights remotely.
The APE Labs app also receives and displays live updates on the remaining battery life and connection status of each unit allowing for independent control and battery life optimisation.
APE Labs W-APP transciever measures 15.5cm by 12cm and 5cm deep (without antennae) and weighs 1kg.
We're always available to discuss your project requirements and pride ourselves on adding value when it comes to acoustic design – add your details below and we'll get back to you or call 01376 501199 for immediate assistance.