GUSTAFS

LSA have worked with Gustafs for over 20 years through the development of their extended range of cladding products. We are their sole distributor in the UK and Ireland with the experience and expertise to make the products work for you.
Gustafs have a century of history in carpentry and joinery, working with wood to build specialist and traditional furniture and moving to the large range of cladding systems the produce today.
Timber is the essence of Scandinavian design and Gustafs products combine this with the practical requirements of modern installations. Their products use a systematic approach to installation, making the on-site process straightforward and seamless every time.
The globally renowned Gustafs Panel System and the newer Linear Systems and bespoke G-Pods all share strong environmental credentials, top class resistance, and acoustic performance options.
LSA Projects Ltd are the sole UK and Ireland distributors of the GUSTAFS Panel System.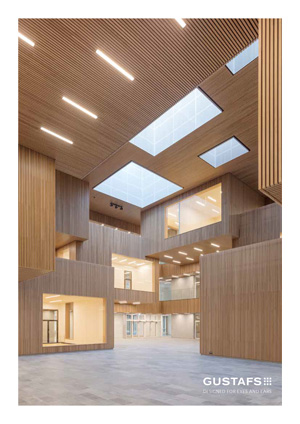 Gustafs Panel System
Gustafs Panel System is an innovative and systematic cladding system for walls and ceilings. Each project is designed and manufactured to order to achieve precise invisible fixing for a flawless installation. 
Gustafs Linear Systems
Gustafs Linear System is comprised of 3 design and performance lead linear wall and ceiling products. Gustafs Linear Ribs, Gustafs Linear Planks and Gustafs Linear Modules.
Timber Walls and Ceilings
LSA Projects Ltd are specialists in timber wall and ceiling cladding; we work with our dedicated manufacturers to find the best timber solutions for your space.
Linear Walls and Ceilings
Linear wall and ceiling systems from LSA Projects are a unique and flexible alternative to panel systems, combining design and performance for functional spaces.
Acoustic Solutions
Acoustics are crucial in modern spaces which is why all our wall and ceiling systems have a range of acoustic options available to add function to your space.
Gallery
Visit here for inspiration from our extensive project portfolio.
Downloads
Visit here to access product brochures and technical data sheets for our full range of products.
We're always available to discuss your project requirements and pride ourselves on adding value when it comes to acoustic design – add your details below and we'll get back to you or call 01376 501199 for immediate assistance.